Howard56
I'm Howard. I live in Stoke on Trent with my wonderful wife Iona. We have two beautiful daughters and one 5 year old granddaughter, who is the most joyful person I know. We also have two chickens: Jean and Valerie.

Loves:
Iona - still my favourite person in the world after nearly 40 years together.
Cooking, baking bread, my pizza oven in the garden, long relaxed meals with friends and wine, walking along beside a river or a canal (or chugging down one on a narrow boat)
Reading stories to kids and to grown ups too.
PG Wodehouse, CS Lewis, The Far Side, Any good thriller, Mark's Gospel (which I perform)
Mozart

Things I'd put into Room 101
Anything priced with a 9 in it (eg £9.99); people who drop litter; technology that goes wrong (which it does all the time around me); 'Reality' (sic) TV; watercress (it's just wrong!)

Things not quite bad enough for Room 101 but they sort of irritate me:
People who go out on a freezing cold day in shorts.
---
I joined Jigidi on 9 March 2021 and was last seen on 9 December 2022. I've solved 1969 puzzles (3.1 daily) and put together 55945 pieces (87.4 daily)
Puzzles created by this user:
1:15
WimS
9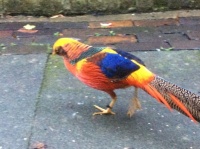 5 October 2022 - 24 February 2022