Avocado Bacon Deviled Eggs
Avocado Bacon Deviled Eggs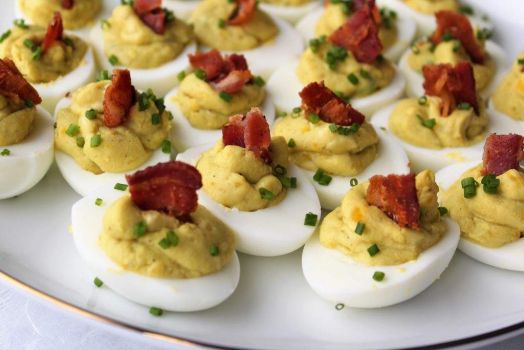 Why are you reporting this puzzle?
The chef's "merry" description:

"This easy and delicious twist on a traditional deviled egg is perfect for a party or holiday. I love the combination of avocado and bacon, yum! The consistency of mashed avocado and egg yolks really merry well together. The addition of the crunchy bacon adds a nice texture to the smooth and creamy egg filling. Tangy, savory, smooth with a bit of salty crunch makes these the perfect bite sized snack for holidays or parties."

Ingredients

12 eggs
1 avocado mashed
3 tbsp Greek yogurt
2 tbsp mustard
1/2 tsp vinegar
1/2 tsp salt
lime juice
5 slices bacon cooked, crumbled
chives chopped

Instructions

Bring a large pot of water to a boil. Gently add the eggs into the boiling water. Bring the water back up to a boil, but turn heat to med-low and simmer for 12 minutes. Remove eggs and place them into a large bowl of ice water. Let them sit in the ice water for 5-10 minutes. Remove and peel immediately.

Slice eggs in half lengthwise. Gently scoop out the yolks into a medium bowl. Add the avocado, yogurt, mustard, salt, lime juice, and vinegar to the yolks. Mix well to combine. I liked mine a little chunky. If you want a super smooth filling you could throw it all in the food processor.

Either scoop filling into each egg half, or use a zip top plastic bag to pipe the filling in for an easy and clean look. Top each egg with crumbled crispy bacon and chopped chives.

Serve immediately, or chill for about an hour before serving. Best served the same day to prevent the avocados from browning.