Glenworth Gardens - Driehaus Estate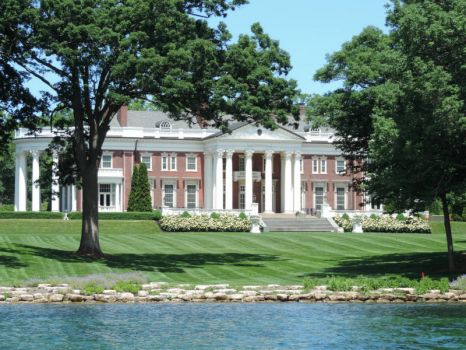 Why are you reporting this puzzle?
This stunning Georgian style lakefront estate is considered by many to be the most beautiful estate on Lake Geneva. It was originally constructed in 1906 for Norman W. Harris of the Harris Trust and Savings Bank The spectacular landscaping was done by the Olmsted Brothers, who inherited the nations first architectural landscape company from their father Frederick Law Olmsted. Frederick is considered by many to be one of the greatest landscape designers in history. Some of his projects include: Central Park, the Capitol Grounds in Washington D.C., and the setting of the 1893 Columbian Exposition in Chicago.

In 1920, this amazing estate was purchased by Walden W. Shaw, famous for starting the Yellow Taxi Cab Company in Chicago, and renamed The Shenning. By the 1930's, this historic lakefront property was owned by Shaw's son-in-law, Daniel F. Peterkin, Jr., who was President of the Morton Salt Company. The Shaw-Peterkin family owned the estate for nearly 80 years before it was sold to investment manager Richard Driehaus.

Mr. Driehaus had the property completely restored in 1999, and it is now officially named Glenworth Gardens. You may hear many locals refer to it as the Driehaus Estate. Richard is rumored to be one of the nicest guys in Lake Geneva. A true philanthropist at heart, he regularly lets various charities use the estate for fundraisers and various social events.

Every year, in late July, Mr. Driehaus throws an amazing theme party, which includes an incredible fireworks show that the entire community gets to enjoy. He recently donated the fountain in front of the Riviera. Lake Geneva is blessed to have a man of this caliber among its residents.

Interesting Note: The Peterkin Family worked with the Lake Geneva Conservancy to place deed restrictions on the property that would prevent future owners from subdividing the property.