Cats and Kittens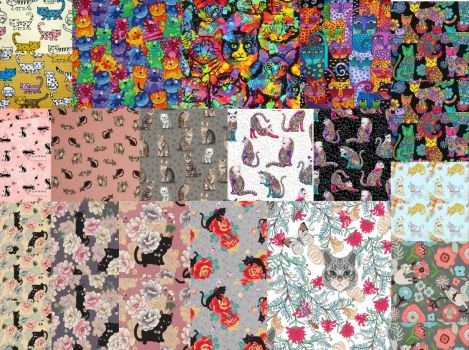 Why are you reporting this puzzle?
Colourful cats and kitties tonight. Along with some more TS Eliot:

"Before a Cat will condescend
To treat you as a trusted friend,
Some little token of esteem
Is needed, like a dish of cream;
And you might now and then supply
Some caviare, or Strassburg Pie,
Some potted grouse, or salmon paste —
He's sure to have his personal taste.
(I know a Cat, who makes a habit
Of eating nothing else but rabbit,
And when he's finished, licks his paws
So's not to waste the onion sauce.)
A Cat's entitled to expect
These evidences of respect.
And so in time you reach your aim,
And finally call him by his name."
― T.S. Eliot, Old Possum's Book of Practical Cats

Credits: Theheydayshop, Timeless Treasures, Laurel Burch, eQuilter, Premium Prints, Pico Textiles, Telio, AliExpress, modes4u, Quilt Gate, Elena Beseda, freepik, kawaiifabric
What's up with Jigidi and erotica?

Blatant sexual objectification is not allowed on Jigidi. You'll find our review criteria for erotica here, along with a more in-depth rundown on our stand on blatant sexual objectification on Jigidi.