Anne Boleyn In An Idealized Portrait Made After Her Death.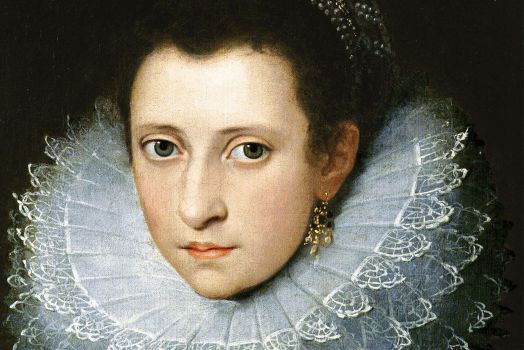 Why are you reporting this puzzle?
HISTORY MAGAZINE
Anne Boleyn used flirtation, fertility, and faith to seduce Henry VIII
Wooing the king of England away from his first wife, Anne Boleyn's tactics forever transformed Christianity in England but cost her life.

As Anne Boleyn knelt before the king, he draped a crimson velvet cloak around her and placed a gold crown on her head; he also gave her a thousand pounds a year "for the maintenance of her dignity."

On September 1, 1532, Henry VIII had taken an unprecedented step: He had elevated a woman into England's hereditary nobility. It was both a gift of love and compensation for enduring years of frustration while Henry tried to put an end to his marriage to Catherine of Aragon. (Henry VIII's first wife was daughter of this powerful Spanish queen.)

The couple spent Christmas together at Greenwich Palace. Here they enjoyed such a splendid banquet that temporary kitchens had to be set up in the gardens. Not long after, Anne realized she was pregnant, tipped off in part by food cravings. Since they didn't want the child to be born out of wedlock, and even though Henry was still married to Catherine in the eyes of the Catholic Church, a chaplain wed them secretly in January of 1533. Who was this woman who had so captivated the English king?


TOWER OF LONDON
In this fortress for high-ranking prisoners, Henry VIII had Anne Boleyn accused of adultery and treason, locked up, and later executed.

Born in 1501, Anne Boleyn had excellent training, serving as a lady-in-waiting to a French queen. In addition to courtly savoir faire and cultural refinement, she gained worldy sophistication at the courts of France. In 1533 Francis, the French king, told the Duke of Norfolk, in confidence, "how little virtuously Anne had always lived." Henry VIII himself confessed to the Spanish ambassador, in 1536, that his wife had been "corrupted" in France and that he hadn't discovered this until after they were married.

Anne quickly caught Henry's eye when she returned to England in the early 1520s. She caused quite a stir: Beautiful and intelligent, she spoke French fluently and knew some Latin; she wore the latest continental fashions, and used her flair for dancing to show them off. Henry declared his love for her in 1526, but she refused to be his concubine: She knew "how quickly the king tired of those who had served him as his beloveds." Anne had greater ambitions: A marriage that would make her queen. She flirted with the monarch to stoke his passion while refusing to consummate their relationship. The letters the king wrote to her between 1527 and 1529 testify to the ardor she aroused in him. (This medieval woman outwitted and outlasted her rivals in France and England.)


Henry wrote:
For of necessity I must ensure me of this answer, having now been above one whole year struck with the dart of love, not being assured either of failure or of finding place in your heart and grounded affection. … But if it shall please you to … to give yourself up, heart, body and soul to me, who will be, and have been, your very loyal servant, I promise you that … I will take you for my only mistress, rejecting from thought and affection all others save yourself, to serve you only.

Boleyn replied: "Your wife I cannot be, both in respect of mine own unworthiness, and also because you have a queen already. Your mistress I will not be."

Undaunted, King Henry continued to pursue her, and their relationship, while still unconsumated, elevated Anne's status in the English court. Anne's rise meant that Catherine of Aragon was increasingly marginalized; but that wasn't enough for Anne. On one occasion, after Henry had dined with Queen Catherine, Anne angrily and openly complained about the agonizing delays in annulling or dissolving the royal marriage. Anne even insinuated that she would leave Henry and declared that she was wasting her youth "to no purpose," but the king's annulment was a complex matter of state which bitterly polarized political and religious opinion.

Triumph of heart and soul
King Henry seemed desperate in his pursuit of Boleyn, but he was also chasing after an heir. His long marriage to Catherine had produced no sons and one daughter, Mary, born in 1516. Part of his obsession with the young Boleyn was the possibility she could provide him with a son. Henry petitioned a papal annulment on the grounds that his marriage to Catherine was unholy because of an Old Testament ban on marrying the widow of one's brother. The Pope denied his request, which caused King Henry VIII to seek out other options and decided that he didn't need the pope's permission on matters pertaining to the church in England.

Anne was absolutely committed to the cause of the Protestant Reformation that was attacking the long established Catholic Church and the papacy. The Spanish ambassador described Anne as "more Lutheran than Luther himself," and she was instrumental in appointing the Protestant Thomas Cranmer to England's highest religious office, Archbishop of Canterbury. (Here's how Martin Luther started a religious revolution.)

In early 1533, after her wedding to Henry, Anne was queen in everything but name. Cranmer now proposed a radical way to legalize the situation. In April Parliament passed the first of the laws that would lead England to officially reject Catholicism and establish the Protestant Church of England. The Act in Restraint of Appeals deprived the pope of his authority to judge Henry's marital dispute. This meant that Catherine could no longer appeal to Rome to overturn the decisions of England's religious authorities. On May 23, Archbishop Cranmer summoned an ecclesiastical tribunal that declared the king's union with Catherine null and void; five days later the wedding between Henry and Anne was confirmed to be valid and legitimate.

Elizabeth I, the only surviving child of Henry VIII and Anne Boleyn, became Queen of England in 1558, succeeding her half sister, Mary I. Her 45-year reign was among the most prosperous in English history.

The coronation of Anne Boleyn was one of the most magnificent that London had witnessed. On May 31, dressed in clothes of gold and white ermine, Anne made her grand entrance into the capital and passed through the city in a procession that covered half a mile. The triumphal arches and events organized in her honor praised the chastity of the new sovereign and expressed the hope that she would bear male heirs to the Tudor dynasty. Religion, art, and every aspect of courtly culture were used to exalt the image of the new queen. Meanwhile, Anne used her influence to promote well-educated and committed Protestants into important positions. She was rarely seen in public without a prayer book in her hands and she gave each of her ladies-in-waiting small prayer books, which they hung from their belts.

Fall from grace
In the summer of 1533 the pregnant Anne found out that Henry had taken a lover. Although a common royal practice at the time, Anne condemned his behavior. A furious Henry told her that she had to "put up with it, as her betters had done before," warning that her downfall could be as swift as her elevation. Their relationship suffered a further blow when she gave birth to a daughter, the future Queen Elizabeth I, instead of the son Henry had so desperately hoped for. According to the Venetian ambassador, "the king is tired to satiety with his new queen." (Queen Elizabeth helped launch the world's most powerful business.)

However, Henry had to put an end to any opposition to the royal marriage. In 1534 Parliament passed the Act of Supremacy, which proclaimed the king to be supreme head of the Church of England. This policy decisively cut the ties between Henry and the pope and granted succession to Princess Elizabeth instead of Mary, Catherine's daughter. Resistance to this act was considered high treason, and the heads of its opponents, like Thomas More's, would roll.

Anne then suffered a miscarriage and the pressure mounted. Henry, frustrated because Anne hadn't given him a male heir, devoted himself to "dances and women more than ever," and was increasingly irritated by the queen's complaints. In late 1535 he began a romance with Jane Seymour. After the king's love for Anne ended, she became a political problem. Domestically Anne was unpopular, and internationally she was an obstacle to reestablishing ties with Emperor Charles. The solution lay with Henry's chief minister, Thomas Cromwell. (Centuries of pandemics have shaped the British monarchy.)

Anne Boleyn suffers a nervous breakdown in the Tower of London after learning of her death sentence.

Death of a queen
On April 30, 1536, after Anne gave birth to a stillborn son, Henry decided he was done with the marriage. Cromwell helped end it by setting a trap for the queen and presented the king with the case that she had seduced members of his privy council, including her own brother. What was more, Cromwell also accused Anne of plotting regicide, planning to murder Henry, marry one of her lovers, and rule as regent.

Most historians consider as unfounded the 21 accusations of adultery brought against Anne. It is unlikely that she conspired to kill the king, who was her primary protector and source of power. However, her frivolous reputation, her fondness for male company, and her indulgence with the games of courtly love made the monarch and others believe her to be guilty.

During her trial, it was reported that the queen remained calm and controlled as she denied all charges, including witchcraft, against her, but it was of no use. She was found guilty of incest, adultery and conspiracy against the king and condemned her to death. The marriage to King Henry was annulled and declared invalid. Before her execution at the Tower of London, Anne Boleyn made a proclamation:

Good Christian people, I am come hither to die, for according to the law, and by the law I am judged to die, and therefore I will speak nothing against it. I am come hither to accuse no man, nor to speak anything of that, whereof
I am accused and condemned to die, but I pray God save the king and send him long to reign over you, for a gentler nor a more merciful prince was there never: and to me he was ever a good, a gentle and sovereign lord. And if any person will meddle of my cause, I require them to judge the best. And thus I take my leave of the world and of you all, and I heartily desire you all to pray for me. O Lord have mercy on me, to God I commend my soul.

She was publicly beheaded on May 19, 1536. Henry VIII waited only 11 days before marrying his next wife, Jane Seymour, who gave birth to his only legitimate son, the future King Edward VI. Edward's reign was short; he died at age 15 and was succeeded first by Lady Jane Grey and then Mary I. Their successor, Elizabeth I, daughter of Anne Boleyn, would rule England for 45 years and lead it into a glorious golden age.