Ceiling of the Audience Hall - Ali Qapu Palace - Isfahan, Iran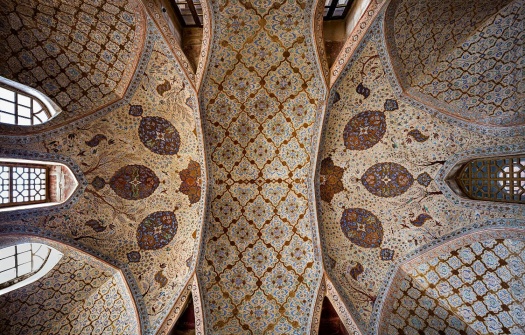 Why are you reporting this puzzle?
Ali Qapu Palace (Persian: عالی‌ قاپو, 'Ālī Qāpū) or the Grand Ālī Qāpū is an imperial palace in Isfahan, Iran. It is located on the western side of the Naqsh-e Jahan Square, opposite to Sheikh Lotfollah Mosque, and had been originally designed as a vast portal entrance to the grand palace which stretched from the Naqsh-e Jahan Square to the Chahar Baq Boulevard. The palace served as the official residence of Persian Emperors of the Safavid dynasty. UNESCO inscribed the Palace and the Square as a World Heritage Site due to its cultural and historical importance. The palace is forty-eight meters high and there are six floors, each accessible by a difficult spiral staircase. In the sixth floor, Music Hall, deep circular niches are found in the walls, having not only aesthetic value, but also acoustic. Ālī Qāpū is regarded as the best example of Safavid architecture and a symbol of Iran's Islamic heritage.

It was built in seven stages over a hundred year period. Begun in 1590 AD, Shah Abbas, here for the first time, celebrated the Nowruz (Iranian New Year) of 1006 AH / 1597 AD.

photo-
"You are free:
to share – to copy, distribute and transmit the work
to remix – to adapt the work
Under the following conditions:
attribution - Amirpashaei - Own work"