Fancy House -- Mykonos,Greece...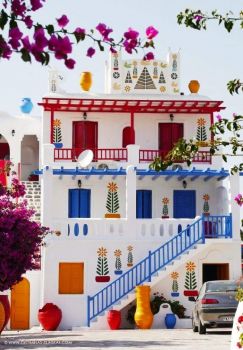 Why are you reporting this puzzle?
Mykonos is one of the most popular islands to visit in Greece. According to Greek mythology, the island is named after Mykonos, the grandson of Apollo. Also according to Greek Mythology, Mykonos was formed when Hercules defeated the Giants. The petrified bodies of the Giants became the rocks that formed Mykonos island.

Mykonos is located in the Cyclades, an archipelago that also includes Naxos, Santorini, Delos, Ios, and Milos, just to name a few (there are over 200 islands in the Cyclades, but many of these are tiny and uninhabited).