Fisher in Krabi, Thailand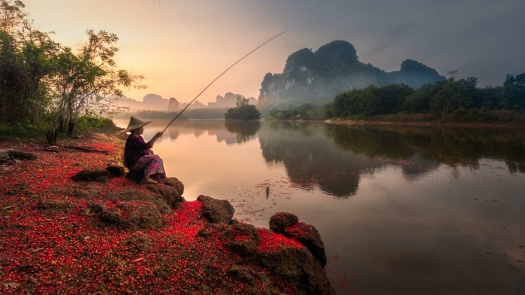 Why are you reporting this puzzle?
"To A Fish
You strange, astonished-looking, angle-faced,
Dreary-mouthed, gaping wretches of the sea,
Gulping salt-water everlastingly,
Cold-blooded, though with red your blood be graced,
And mute, though dwellers in the roaring waste;
And you, all shapes beside, that fishy be,--
Some round, some flat, some long, all devilry,
Legless, unloving, infamously chaste:--
O scaly, slippery, wet, swift, staring wights,
What is't ye do? What life lead? eh, dull goggles?
How do ye vary your vile days and nights?
How pass your Sundays? Are ye still but joggles
In ceaseless wash? Still nought but gapes, and bites,
And drinks, and stares, diversified with boggles?"
"To A Fish" by English critic, essayist and poet
James Henry Leigh Hunt
(1784 – 1859).
How do you follow a puzzle creator?

Do you have one or more jigsaw puzzle creators on Jigidi whose puzzles you are always looking for? Then you might consider "following" them, which means you'll receive a notification upon their newest postings.