A moose at Antelope Flats in Grand Teton National Park, Wyoming.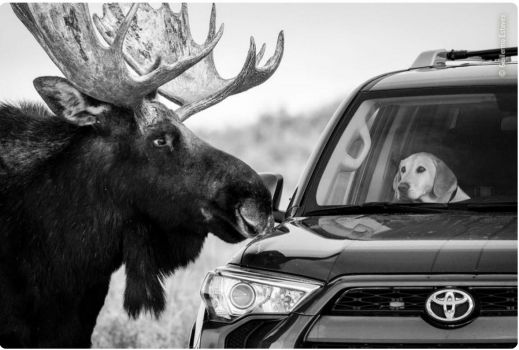 Why are you reporting this puzzle?
On the side of the road in Grand Teton National Park, a bull moose and a dog engaged in a stare-down.

Photographer Guillermo Esteves had been hoping simply to snap a picture of the moose, but couldn't resist capturing this tense moment on camera. The car's owner - and furry co-pilot - were forced to wait until the moose lost interest and moved off the road.

Esteves' image is among the most popular wildlife photos of 2020.

Each year, the Wildlife Photographer of the Year contest offers a peek into the lives of species around the world. The competition is developed and produced by the Natural History Museum in London. It aims to award photographers whose work inspires us to consider our place in the natural world and our responsibility to protect it.
5 April 2015 - 8 April 2013