Chesma Church --Saint Pétersburg, Russia....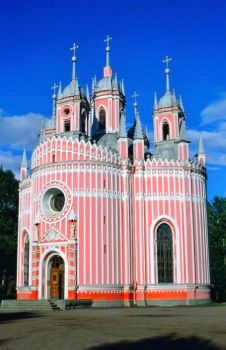 Why are you reporting this puzzle?
When a messenger told Empress Catherine the Great about the Russian victory over the Turkish Fleet at the Bay of Chesma in 1770, she immediately decided to have a church built on the spot she was standing. Ten years later, in 1780, the foreign looking, white and red striped building was finished. Across from the church stands the neo-gothic Chesma palace. It served as a stopping ground for Catherine on her way to Tsarskoye Selo, the town containing a former Russian residence of the imperial family. It was also where Rasputin was laid in state after his murder. The church served as a museum during Soviet times but was revived as a place of worship in 1999.
What is the filter for?

Some puzzles are shown behind a filter. These puzzles are within our guidelines but still is material of which some will take great offence. Read more about the reasons and workings of the content filter and how you can set your account up to either see or not see puzzles that are shown behind a filter.