Pride of Baltimore II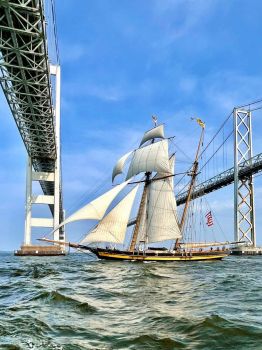 Why are you reporting this puzzle?
The Pride of Baltimore was a reproduction of a typical early 19th-century "Baltimore clipper" topsail schooner, a style of vessel made famous by its success as a privateer commerce raider and small but nimble warship in the War of 1812 (1812–1815), against British merchant shipping and a vastly superior world-wide British Royal Navy. Commissioned on May 1, 1977 by the 44th Mayor of Baltimore, William Donald Schaefer, in an elaborate public ceremony in the historic Inner Harbor watched by thousands of Baltimoreans and Marylanders, she spent nine years at sea logging over 150,000 miles, equivalent to six times around the globe. On May 14, 1986, the first Pride of Baltimore was lost at sea in the Caribbean Sea, and her captain and three of the crew died.

The Pride of Baltimore II was commissioned as the successor and memorial to the Pride in 1988, sailing in the same Goodwill Ambassador role for the city of Baltimore, but its role has now expanded to also representing the State of Maryland and the "Land of Pleasant Living" in the Chesapeake Bay region. Pride II has sailed nearly 200,000 miles and visited over 200 ports in 40 countries in its now near three decades of voyages.