"The Legacy of John F. Kennedy"
"The Legacy of John F. Kennedy"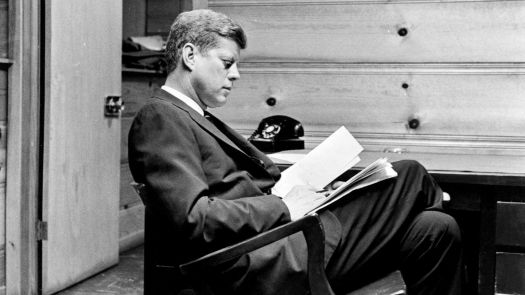 Why are you reporting this puzzle?
Photo by The Associated Press

"President Kennedy spent less than three years in the White House. His first year was a disaster, as he himself acknowledged. The Bay of Pigs invasion of Communist Cuba was only the first in a series of failed efforts to undo Fidel Castro's regime. His 1961 summit meeting in Vienna with the Soviet leader Nikita Khrushchev was a humiliating experience. Most of his legislative proposals died on Capitol Hill.

"Yet he was also responsible for some extraordinary accomplishments. The most important, and most famous, was his adept management of the Cuban missile crisis in 1962, widely considered the most perilous moment since World War II. Most of his military advisers—and they were not alone—believed the United States should bomb the missile pads that the Soviet Union was stationing in Cuba. Kennedy, aware of the danger of escalating the crisis, instead ordered a blockade of Soviet ships. In the end, a peaceful agreement was reached. Afterward, both Kennedy and Khrushchev began to soften the relationship between Washington and Moscow.

"Kennedy, during his short presidency, proposed many important steps forward. In an address at American University in 1963, he spoke kindly of the Soviet Union, thereby easing the Cold War. The following day, after almost two years of mostly avoiding the issue of civil rights, he delivered a speech of exceptional elegance, and launched a drive for a civil-rights bill that he hoped would end racial segregation. He also proposed a voting-rights bill and federal programs to provide health care to the elderly and the poor. Few of these proposals became law in his lifetime—a great disappointment to Kennedy, who was never very successful with Congress. But most of these bills became law after his death—in part because of his successor's political skill, but also because they seemed like a monument to a martyred president."

Kennedy was assassinated on November 22, 1963.