Otter Medicine ~ Terrance Guardipee (Blackfoot ledger art)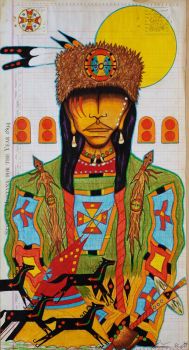 Why are you reporting this puzzle?
Terrance Guardipee fuses traditional Blackfoot imagery with historical documents such as checks, receipts, stocks, money, WWII ration books and coupons. He incorporates these original, one-of-a-kind documents from the 19th century with Blackfoot figures and traditional symbols. Ledger art "allows me to bring my ancestors back to life in a modern version of them but still keeping true to the designs and the headdress and the colors."

There is a long tradition of artwork among the native peoples of the Plains, who originally painted on animal hides – particularly buffalo hides. When buffalo became scarce after eradication programs encouraged by the US federal government, Plains artists began painting and drawing on paper, canvas, and muslin. In the mid 19th century, an increasing supply of ledger books and other paper came from Europeans, along with pencils, fountain pens, crayons, and watercolor paints. The ledger books used by storekeepers to record their sales were one of the earliest sources of paper for warrior-artists, and their art – done on any sort of paper – has come to be called "ledger art." The subject matter soon expanded to include all of Plains daily and ritual life.

Original ledger art flourished primarily from the 1860s to the 1920s and was the province solely of men. The revival of ledger art began in the 1960s and 1970s, now including some very talented women. Modern Plains artists create contemporary ledger paintings, often using 19th-century documents on which to paint, often creating ironic juxtapositions between the printed text and the paintings.