Sculpture from The Dali Universe exhibit on display at Waterloo Station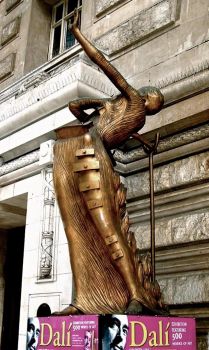 Why are you reporting this puzzle?
The Dalí bronze sculpture Woman Aflame, perfectly encapsulates Dalí's exploration of three-dimensional form and it effectively demonstrates the core characteristics of Surrealism. Woman Aflame (1980) is a significant work, having a prominent place in Dalí's sculpture repertoire.

The inextinguishable flames represent a burning passion, perhaps that of latent female desire. For Dalí, it is well documented that Drawers symbolize memory and the unconsciousness. They express the mystery of hidden secrets, of which according to Dalí , women possessed. Dalí was influenced by the psychoanalyst Sigmund Freud, and in this sculpture the drawers illustrate the hidden sensuality of the female and the mysteries that the female body contains.