Jose Maria Rodriquez-Acosta (1878-1941) - The Gypsies of Sacromonte, 1908 / Smallest of three.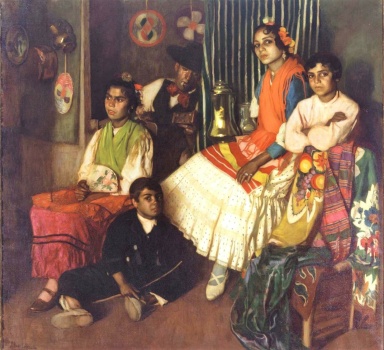 Why are you reporting this puzzle?
Jose Maria Rodriquez-Acosta (1878-1941) - The Gypsies of Sacromonte, 1908

José María Rodríguez-Acosta González de la Cámara was a Spanish painter, known for portraits, urban landscapes and genre scenes. He also did still-lifes and some female nudes.
Born: February 25, 1878, Granada, Spain
Died: March 19, 1941, Granada, Spain

See also Acosta's "Woman in a Green Dress" posted 5 days ago:
https://www.jigidi.com/created.php?id=byb5ijjf
-------------------------------------------------------------------------------------------------------
I googled "Gypsies of Sacramonte" to learn more about this community.
From the first site: "This other-worldly barrio is home to many of Granada's Gypsies, as well as artists, intellectuals and misfits from all over the world." and this from a touring company which touts itself as offering "unique trips that care about the world". It might well have said: gypsies, artists, intellectuals and other misfits". It was infuriating.

More accurately: The Romani (what so-called "gypsies" call themselves) moved into the hillside cave homes created by Muslims and Jews when Al-Andalus was a center of Islamic/Arab culture and rule. No doubt some Muslims and Jews stayed after the conquest of "Andalucia" by Ferdinand and Isabella in 1492, converting to Christianity. (The choice, if people were given a choice - conversion, exile, or dying for your right to say.) Many fled across the straits to North Africa. But many remained and indeed the descendants of these people who had lived there, creating a vibrant civilization over an 800-year period, are there today, and can be seen the facial features of Andalucians. . . as well as in their music (flamenco), poetry, cuisine, etc. A number of Andalucians have over the past 50 years, been returning to Islam, some taking Arabic names in place of names given to them by the Inquisition's conversion process. They are a community distinct from a 20th century immigrants from North Africa. They are Andalucians, they are Spaniards.
How do you follow a puzzle?

When you follow a puzzle, it means you receive notifications about new comments on the puzzle.