Where to? - To Venice!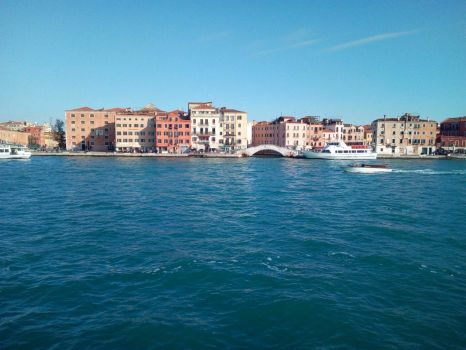 Why are you reporting this puzzle?
Venice, Itay, is situated on a group of 118 small islands that are separated by canals and linked by over 400 bridges. The islands are located in the shallow Venetian Lagoon, an enclosed bay that lies between the mouths of the Po and the Piave rivers.

Venice has been known as "La Dominante", "La Serenissima", "Queen of the Adriatic", "City of Water", "City of Masks", "City of Bridges", "The Floating City", and "City of Canals". The lagoon and a part of the city are listed as a UNESCO World Heritage Site.

(info wiki)

--

One year ago exactly (1st November 2019), it was a beautiful morning at Punta Sabbioni, a port for daily vaporettos to Venice, Italy. The decision to go to Venice was made only the previous afternoon - and it turned out to be an excellent one. This photo presents the beautiful weather as we were approaching this historic location and the first Venice buildings we saw were a promise of a wonderful day.