Venice: Prepare for landing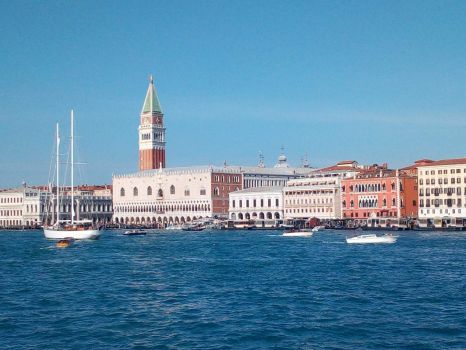 Why are you reporting this puzzle?
Two of the most iconic buildings in Venice, Italy: Campanile di San Marco (St. Mark's Campanile) & Palazzo Ducale (Doge's Palace).

St Mark's Campanile is the bell tower of St Mark's Basilica in Venice. The current campanile is a reconstruction completed in 1912, the historical tower having collapsed in 1902. At 98,6 metres (323 ft) in height, it is the tallest structure in Venice and is colloquially termed "el paròn de casa" (the master of the house).

The Doge's Palace is built in Venetian Gothic style. It was the residence of the Doge of Venice, the supreme authority of the former Republic. It was built in 1340, and extended and modified in the following centuries. It became a museum in 1923, and is one of the 11 museums run by the Fondazione Musei Civici di Venezia.

(info wiki)

--

This was my first whole-day visit to Venice (1st Nov 2020). We parked our little camper at Punta Sabbioni and took a vaporetto to Venice. We had no tourist guide or plan, just a rough goal and what followed was a lot of free strolling in the funny labyrinth of streets and canals. This was just about two weeks before the extreme acqua alta of November 12, 2020 (worst high-tide flood since 1966, with the high water reaching 1,84 m (6ft) above sea level) - and, this was also just some months before the era of the coronavirus.