Château de Chambord au coucher de soleil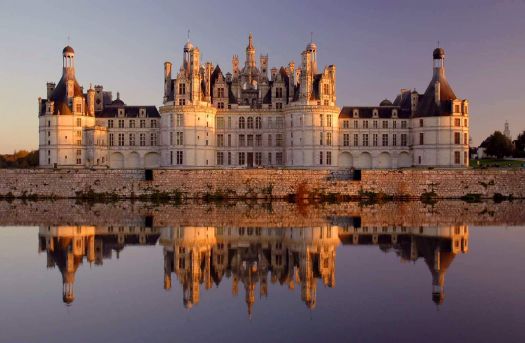 Why are you reporting this puzzle?
As a work of architecture and an affirmation of royal power, Chambord is radically unique: a place that conceals almost as much as it reveals. The chateau is a Unesco World Heritage site with more than 400 rooms, including reception halls, kitchens, lapidary rooms and royal apartments. Originally conceived as a hunting lodge, Chambord boasts a fireplace for every day of the year. Its stone terraces offer sweeping views of the gardens, stables and, in the distance, a vast game preserve teeming with wild deer and boar.

Within its gilded expanse are more impressive features. Inside Chambord's two great wings – spread over four floors in the shape of a Greek cross, with staircases that lead up to dramatic lantern cupolas – caissons and vaulted ceilings are decorated with an assortment of royal insignia, including salamanders, porcupines, dolphins and other inscrutable icons.