Robber fly ...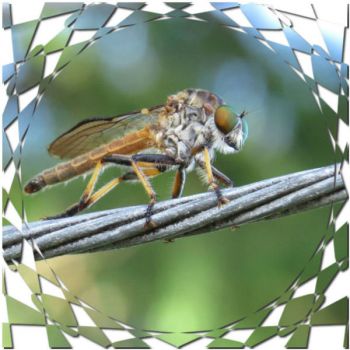 Why are you reporting this puzzle?
....on a wire in the back garden. They are also known as Assassin Flies. They belong to the Asilidae family and are found in lots of countries around the world.

Wikipedia says:
Robber flies have stout, spiny legs and they have three simple eyes (ocelli) in a characteristic depression on the top of their head between their two large compound eyes. They also have a usually dense moustache of stiff bristles on the face; this is called the mystax, a term derived from the Greek mystakos meaning "moustache" or "upper lip". The mystax has been suggested to afford some protection for the head and face when the flies deal with struggling prey; various Asilidae prey on formidable species including stinging Hymenoptera (sawflies, wasps, bees and ants) , powerful grasshoppers, dragonflies and even other Robber flies, in fact practically anything of a suitable size. Some Robber Flies do, however, specialise in smaller prey, and this is reflected in their more gracile build.

In general the family attacks a very wide range of prey, including other flies, beetles, butterflies and moths, various bees, ants, dragon and damselflies, ichneumon wasps, grasshoppers, and some spiders. They do so apparently irrespective of any repugnant chemicals the prey may have at its disposal. Many Robber Flies when attacked in turn do not hesitate to defend themselves with their proboscides and may deliver intensely painful bites if handled incautiously.

Brisbane, Australia.