Bacon-Wrapped Chili Cheese Dogs (2)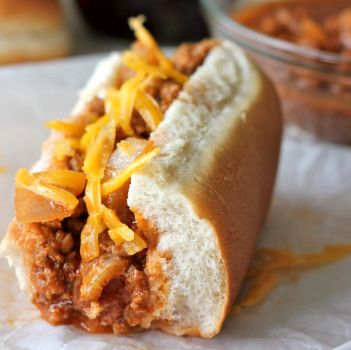 Why are you reporting this puzzle?
From the Damn Delicious food website.

" ... But what I do know is that these bacon-wrapped chili cheese dogs should definitely be happening today. And you should eat about 2 of these. No wait. Eat 4."

Bacon-Wrapped Chili Cheese Dogs:

Yields 6 servings

INGREDIENTS:

1 pound ground beef
1 onion, chopped
6 ounces tomato paste
1/2 cup ketchup
2 tablespoons Worcestershire sauce
2 teaspoons apple cider vinegar
1 teaspoon cumin
1/2 teaspoon paprika
1/2 teaspoon ginger
1/4 teaspoon cayenne pepper
Kosher salt and freshly ground black pepper, to taste
6 hot dogs
6 slices applewood smoked bacon
6 hot dog buns
1/2 cup shredded sharp cheddar

DIRECTIONS:

Heat ground beef and 2 cups water in a Dutch oven or large pot over medium high heat. Once boiling, add onion and cook until translucent, making sure to crumble the beef as it cooks, about 3-4 minutes. Stir in tomato paste, ketchup, Worcestershire, apple cider vinegar, cumin, paprika, ginger, cayenne pepper, salt and pepper, to taste.

Reduce heat to low; simmer, covered, stirring occasionally until thickened, about 15-20 minutes.

Preheat grill to medium high heat.

Wrap each hot dog in a strip of bacon. Add the hot dogs to the grill and cook until the bacon is brown and crispy, about 4-5 minutes.

To assemble the hot dogs, add hot dogs into each hot dog bun and top with chili and cheese.

Serve immediately.