A Bit of War History, The Recruit, Thomas Waterman Wood, 1866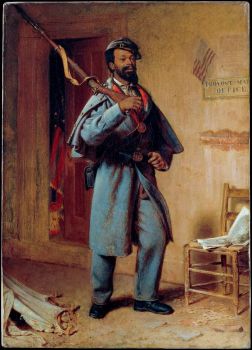 Why are you reporting this puzzle?
A Bit of War History: The Recruit
Thomas Waterman Wood (American, Montpelier, Vermont 1823–1903 New York)
1866
American
Oil on canvas
28 1/4 x 20 1/4 in. (71.8 x 51.4 cm)
(framed with 84.12a and 84.12c)
The Metropolitan Museum of Art, Gift of Charles Stewart Smith, 1884

From the Met website:
"This work, painted at the close of the Civil War, forms a narrative triptych (84.12a, b, c) of African American military service. In "The Contraband" (84.12a)—a term that referred to enslaved people who fled to Union lines at the beginning of the conflict—the self-emancipated man appears in a U.S. Army Provost Marshall General office, eager to enlist. The Recruit (84.12b) represents him as proudly ready for military service. In "The Veteran" (84.12c), he is depicted as an amputee possibly seeking his pension in the same office where he first enlisted, or returning to military service. By the war's end, African American men made up more than ten percent of the United States Army and Navy, fighting bravely in so-called U.S. Colored Troops. Wood, a White Vermont-born painter, produced this empathetic work in New York at a time when caricatured representations of African Americans were the norm."