Training the Princess, oil canvas, 2014 by Zaya
Training the Princess, oil canvas, 2014 by Zaya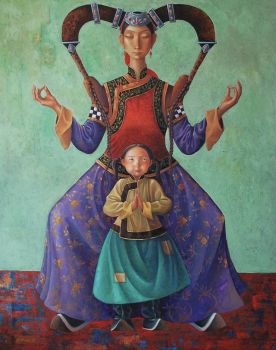 Why are you reporting this puzzle?
Contemporary Mongolian artist Zayasaikhan Sambuu (Zaya) was born in a small town of Baatsagaan (Southern Mongolia) in 1975. In the teenage years Zaya, inspired by portraits of Buddhist gods, as well as freedom of religion, deepened into Buddhism, and at age 15, he decided to become a monk. However, after studying Tibetan religious texts for two years, he realized that he is more interested in art than religion. At age 17, Zaya entered the Soyol Fine Art College in Ulan Bator. After graduating from college, he went on to study at the Mongolian State University of Culture and Arts, from which he graduated in 2002.

The combination of traditional Mongolian painting and modern art using watercolor, gouache, oil, and mixed media – allows the artist to illustrate the ancient culture and heritage of Mongolia and Central Asian nomadic peoples. His works are mostly composed of scenes of everyday life of ancient peoples, where join the spirit of Mongolian nomadic art with Tibetan and traditional Japanese painting technique. Through various methods, and the study of different cultures, Zaya has created his own musical genre, which allows him to tell the world about Mongolia.