'Girl In A Flower Wreath' By Ukrainian Artist Nikolai Fedyaev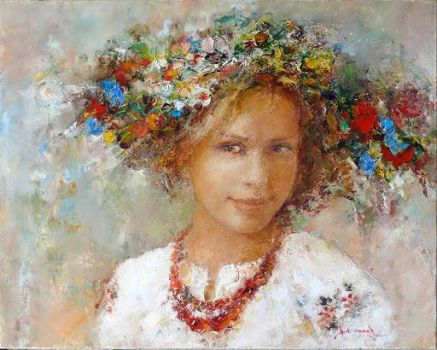 Why are you reporting this puzzle?
Born May 4, 1967 in the city of Lyskovo of Nizhny Novgorod region Russian painter Nikolai Fedyaev spent his childhood in the ancient village of Isady on the picturesque banks of the Volga. Vivid memories of childhood about Russian nature, and, in particular, a magnificent view of the Macarius Monastery, reflected in his first drawings. Meanwhile, in the 1970s the family moved to the city of Izmail, Odessa region. There in 1984 Nikolai graduated from the children's art school and wanted to devote himself to art. But a year later, he was drafted into the army – the Black Sea Fleet. First it was the navy, then a civilian, he wanted to see distant lands, and get a romantic adventure. It seemed not for long, but as many as two decades the profession of a sailor, which he shared with creativity, has become a significant part of his life.
How many accounts can a person have on Jigidi?

1 account; or 2 if you have a creative need for a second account - but this requires transparency in your profile descriptions that you hold both accounts. To trust each other and interact with our shoulders down and hearts soft, we all must know with whom we are communicating.

Read more about what to do if you have more than one account on Jigidi.