Tony Wolf Illustration Woodland Folk Make Dessert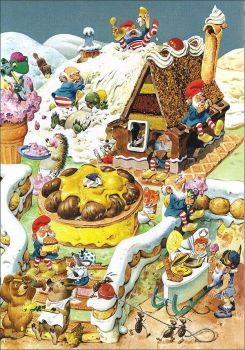 Why are you reporting this puzzle?
''Antonio Lupatelli (1930 – 18 May 2018) was an Italian illustrator,comics artist and writer who worked under the pseudonym of Tony Wolf. Lupatelli is best known for his illustrations of children's books.''
I believe this is from his book The Woodland Folk,also the most famous one.
I remember this book from childhood and I was mesmerized by the amount of detail and emotion expressed through his work.
Are you looking for something particular?

Did you know you can select specific themes of jigsaw puzzles on Jigidi? We have 10 main categories with countless subcategories. Dig in to find your favourites ☺