The 1587 World Map by Urbano Monte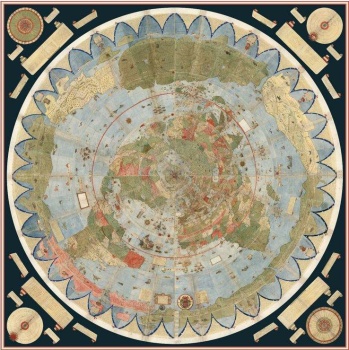 Why are you reporting this puzzle?
"Azimuthal Equidistant Projection" might be another way of saying "Flat Earth", or is it just another way of saying "Plane t' Earth"?

FlatEarth.ws "dubunks" this. The explanation given is that the AEP projection is otherwise identical to global Earth in all but the expanding azimuth distances as they exponentially increase in length on their way to the antarctic "circle".
In which case, why is it that ALL the continents are not shown shaped like slices of cake, but are represented with little distortion and similar dimensions and shapes to their representations as portrayed in all the modern map books and on globes? Does anyone know?
The three ancient "lost" or unknown lands first named by Urbano Monte in his earlier 1582 map were Terra del Fuego, Terra de Galec, and Terra de Lacach.
What's up with Jigidi and erotica?

Blatant sexual objectification is not allowed on Jigidi. You'll find our review criteria for erotica here, along with a more in-depth rundown on our stand on blatant sexual objectification on Jigidi.