2020 Apple Harvest
2020 Apple Harvest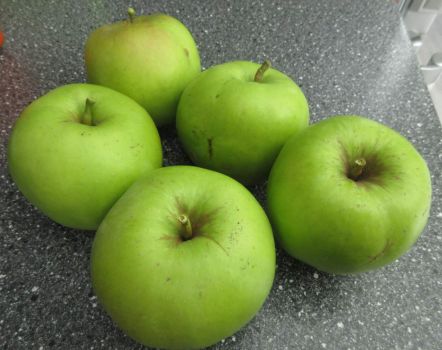 Why are you reporting this puzzle?
In the end it were 7 apples growing on my apple tree this year. Normally we'll have them ripen on the tree for as long as possible and harvest them somewhere in September. But since Liertje noticed a grasshopper had taken some bites of one apple and earwigs made use of the hole that was bitten in one of them, we checked every day that the others would be spared until harvest time. Then last week I noticed a brown bruised spot on another apple.....darn insects!
Yesterday night Liertje found the one with the bruised spot on the ground under the tree, so he picked it up as a slug was already helping himself to a feast. So today we decided to harvest the 5 'good' ones too and let them ripen further indoors. If we'd let them on the tree, we might not have a single bite for ourselves. The 7 in total weighed over 1500 grams (1½kilos). Not bad at all!!!
the 2 'bad apples' are cut into pieces and are on the patio table for whatever critter to take! :-)
When these 5 are ripe they're enough for baking an apple tart as they are 1190 grams!!!