#3: Browser the Cat celebrating Mardi Gras on the job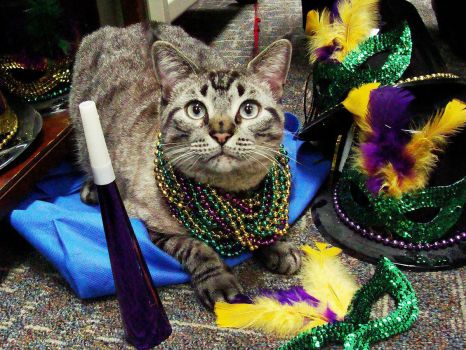 Why are you reporting this puzzle?
July 3, 2016: Ousted library cat Browser will keep his longtime library gig in White Settlement, Texas, thanks to a change of heart among city officials.

A landslide 3-0 vote Friday ruled that the beloved feline can stay at his home of six years following outrage from the local community — and internationally — demanding Browser stay put, according to the Dallas Morning News.

Browser was at risk of losing his home living among stacks of books at the suburban Fort Worth facility, where he also poses for an annual calendar and lounges on computer keyboards.

Mayor Ron White defended Browser — a former shelter cat turned literature mascot — while accusing members of the city council of hating cats. An irate city employee inspired a heartless resolution to evict Browser when their puppy was not allowed at city hall.

"That cat doesn't hurt anybody," said White last month, telling the Fort Worth Star-Telegram the pet spat bubbled into a heartless resolution because of a feud.

"The council just went out and did this on their own because they don't like cats," he added.

The city council initially voted 2-1 to boot Browser from the library by July 14.

White threatened to take Browser's ordeal to voters had the city failed to reconsider its decision.