Absinthe #2 - The Absinthe Drinker by Viktor Oliva - second in a series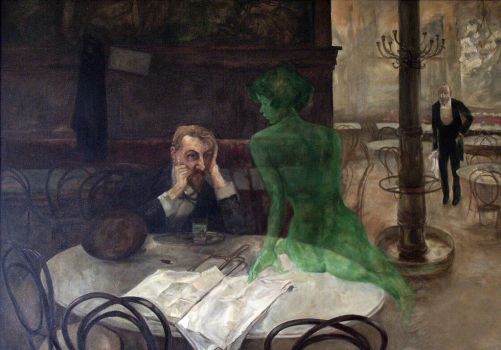 Why are you reporting this puzzle?
Viktor Oliva (24 April 1861 – 5 April 1928) was a Czech painter and illustrator.

In 1888 he was drawn to the Montmartre area of Paris to be part of the ever rapidly expanding artistic community there. He lived there for some years and became good friends with other "Bohemian Parisiens" such as Luděk Marold, Mikoláš Aleš, Jakub Arbes, and Karel Vítězslav Mašek. This group of actual Bohemians (in that they were actually from Bohemia) were right in the heart of the "Bohemian Revolution".

"His art greatly improved in such a richly artistic environment. Paris is where he discovered the joy of absinthe." - wikipedia

His group of Artistic Bohemians were very idealistic, and he lived and worked there for several years before returning to home to Bohemia.

His most famous painting, Absinthe Drinker (Czech: Piják absintu), hangs on the wall of the historical Café Slavia in Prague, Czech Republic.