Goofie: Can't believe you pulled this on me once again....!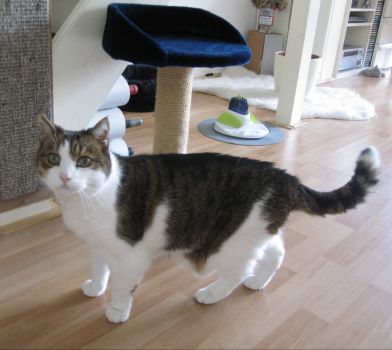 Why are you reporting this puzzle?
Here he is just out of his cat carrier back from the V.E.T.'s.
His blood is tested again today. Thanks to his special diet and medicine the creatinine- and Ureum value have lowered in one month time!
Ureum value even from 14.(?) to 11.8!!!!
Hopefully it will lower even more or at least stay stable. The V.E.T. was very pleased with the results.
We have to continue what we're doing and if all goes well (I have to keep a close eye on him of course!) he will be tested in September again when he's for his Annual check up and vaccination!
His weight was 4,65 kilo last time and today it was 4,72 kilo!!!! Not much but at least no more weight loss since 1.March..
All in all, very positive news.....
Have you solved today's jigsaw puzzle?

Every day, we present you with a jigsaw puzzle that we curate for you. You will find it on our daily jigsaw puzzle page or follow us on Facebook to get it in your news feed. Solve it and share it with friends and family to give them a daily beautiful and mindful brain workout ♥