GARDEN IDEAS FOR THIS SPRING...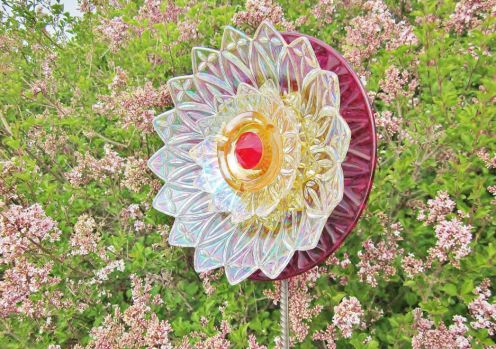 Why are you reporting this puzzle?
USE ANY UNWANTED PLATES, CUPS, SAUCERS, BOWLS, CANDY DISHES MADE OF GLASS, CERAMIC, CHINAWARE, STONEWARE EVEN PLASTIC IF YOU WANTED TO, TO CREATE THESE BEAUTIFUL FLOWER PLATES! YOU CAN USE BEADS, STONES, BUTTONS, ANYTHING YOUR HEART DESIRES TO DEC THEM OUT! ALL YOU NEED AFTER YOU HAVE ALL OF YOUR DECOR IS SOME REBAR TO CONNECT THEM TO AND SOME REALLY STRONG GLUE OR MAYBE A DRILL, NOT QUITE SURE YET HOW YOU ARE TO CONNECT ALL OF THESE HEAVY ITEMS! BUT, I'M GOING TO FIND OUT AND I'LL BACK WITH YOU ON THAT AS I'D LIKE TO TRY MY HAND AT MAKING SOME OF THESE TOO! GOOD LUCK!
Want to solve without time tracking?

See how to change your settings to our de-stressing mode - we call 'Zen Mode' ♥ (You can always switch back).