Huron Lightship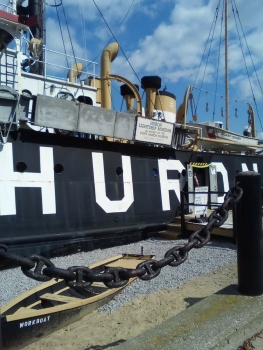 Why are you reporting this puzzle?
This is most of the side of the lightship Huron, now a museum in Port Huron, Michigan.

There are spots in waterways where lighthouses are needed but where there's no suitable place (too narrow, too sandy, too deep, etc.) for one. In such cases, smaller, portable lighthouses were used--the lightships. This one, the last active on the Great Lakes, was decommissioned in 1970. (Their function has now been taken over by more modern devices.)

The Huron was also the only lightship continuously active throughout WWII. Supplies of taconite (iron) from Minnesota were needed by the Detroit factories, and the route had to be secure.

For more on this ship (and a better picture of it!), see https://www.phmuseum.org/huron-light-ship-museum/ Our party found the museum very interesting (enlightening?), and we spent a lot of time chatting with a very knowledgeable guide.