Shōjō Under a Sake Cup, Tsukioka Settei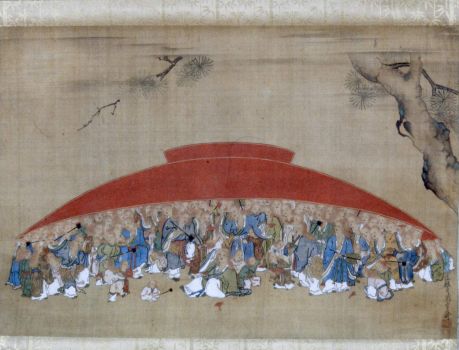 Why are you reporting this puzzle?
Shōjō Under a Sake Cup
mid to late 18th century
Artist Tsukioka Settei
nationality Japanese
Artist Life 1710 - 1786
Dimension
19 1/2 x 28 15/16 in. (49.5 x 73.5 cm) (image)
60 13/16 x 35 7/16 in. (154.5 x 90 cm) (mount) 96 cm W w/rollers

Ink and color on silk
Country Japan
Century Nikuhitsu ukiyo-e
Public Domain
Classification
Paintings
Object Name Hanging scroll

According to Wikipedia, "Shōjō (猩々 or 猩猩), a sea spirit with red hair and a fondness for alcohol in Japanese mythology."