Summer Homes Along the Lake #7
Summer Homes Along the Lake #7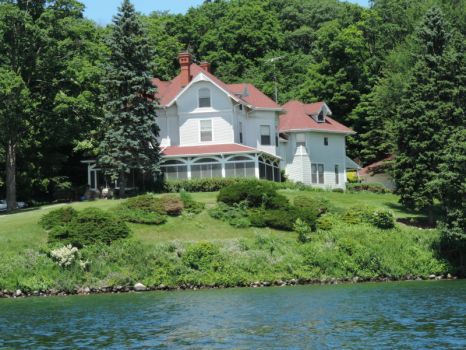 Why are you reporting this puzzle?
Several factors were involved in the growth of Geneva Lake as a resort for Chicago's wealthy. First of all, in the 1870's, numerous men from Chicago came here to hunt and fish, and their love of the area convinced them the Geneva Lake would be the ideal place to build a summer home.

Transportation was the second factor. The Chicago & Northwestern Railroad opened a line from Chicago to the Village of Lake Geneva on July 6, 1871. This allowed people to reach the area with ease.

The third and most important factor was the Chicago Fire, which occurred on October 8, 1871. Many of the families displaced by the fire actually escaped the burning of the city by getting on the train and coming up here to the lake.

Many of these people stayed here at the lake through the fall and winter of 1871-72, while they waited city homes to be rebuilt. Within a few years, when the city and its industries were back on their feet and money was available, more and more Chicagoans began selecting Geneva Lake for their summer getaways.

Even today you will find that about 80% of the summer residents here have roots in Chicago.