Meet DORUS.....# 2....those eyes!!!!!♥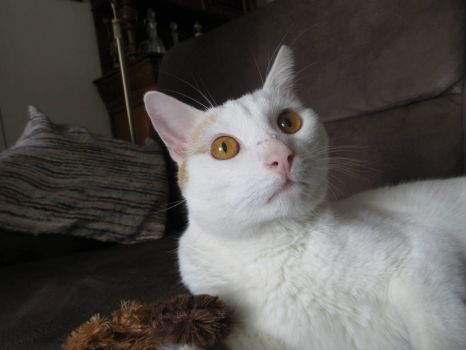 Why are you reporting this puzzle?
He's the new kitty of my best friend.
After she lost Blacky almost 7 weeks ago she has given Dorus a forever home.
She is a volunteer at the Animal Rescue Hospital (Dierenambulance) where Dorus was admitted after he was rescued from the streets some weeks ago. He had an abcess on the implant of his tail and on 'her day' my friend had to treat him for it as well. Dorus was always very cheerful and really knew how to 'sell' himself....my friend was 'sold' and since Thursday they've adopted each other ♥♥♥
I had the honour to meet him this afternoon and after sniffing my hand I could stroke him. Then I presented him my welcome present ...a catnip toy ...he loves it and we became instant friends! He's so sweet!!!