Breeching was the occasion when a small boy was first dressed in breeches or trousers Pequeño-estrenando-su-primera-ropa-masculi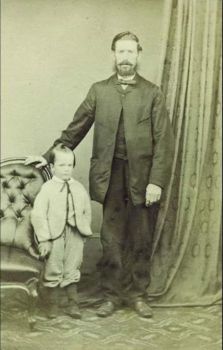 Why are you reporting this puzzle?
Imagine being a parent in an era when zippers and snaps were yet to be invented and the pants that were available were too complicated and had too many accessories, which made it almost impossible for a small boy to put them on all by himself. What would you do? One alternative would be to dress your toddler boy by yourself, spending quite some time doing it. But Victorian-era parents had another method and frankly, it was much more effective.

It was around this time that boys would reach what was known as "the age of reason," which meant that wearing a dress would no longer be necessary. For the family, this was cause for celebration because then the event, known as "Breeching," was set in motion, signifying the boy's step towards manhood.

The boy would get a haircut and, dressed in pants for the first time, would walk around the neighborhood, showing off his new clothes for everyone to see.
Give us a sense of you

We always encourage Jigidi puzzlers to add an image to their profile to give their fellow puzzlers a sense of who is behind the profile name. And if you include a profile description - even with just a few selected words - it will further help the community understand who they are lucky enough to have come across on Jigidi! ♥