Absinthe #4 - Preparation - fourth in a series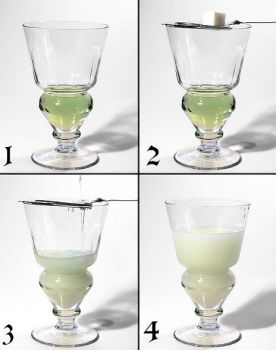 Why are you reporting this puzzle?
The traditional French preparation involves placing a sugar cube on top of a specially designed slotted spoon, and placing the spoon on a specially designed glass filled with a measure of absinthe. Iced water is poured or dripped over the sugar cube to mix the water into the absinthe. The final preparation contains 1 part absinthe and 3–5 parts water.

As water dilutes the spirit, those components with poor water solubility (mainly those from anise, fennel, and star anise) come out of solution and cloud the drink. The resulting milky opalescence is called the louche (pr. loosh, French for opaque or shady). The release of these dissolved essences coincides with a perfuming of herbal aromas and flavours that "blossom" or "bloom," and brings out subtleties that are otherwise muted within the neat spirit.