Nouar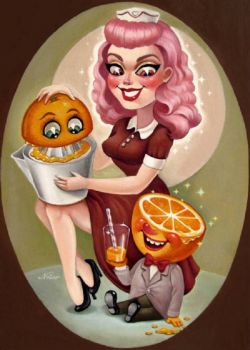 Why are you reporting this puzzle?
Nouar, also know as Noir Nouar is a Los Angeles artist who makes paintings and sculptures inspired by food. Her theme is savory and sweet food, colorful and full of sugar. Her work looks edible and one would be tempted to taste that sweetness. However, what Nouar makes maybe looks sweet, but the subject of her work is a little bitter. Living in consumer-oriented society, we tend to buy things just because they look good. This artist sees through the big advertising game and she intentionally highlights the fact that behind all the lovely and tasty treats, hides the dark side of sales, mass production, and unhealthy lifestyle. Adds are made to please the majority of the population. They are colorful, sweet, warm and cartoonish. When we feel comfortable, we spend more money.

Nouar graduated from Art Center College of Design in 2004 and soon after college she started working as a background painter in the animation studios of Cartoon Network and Nickelodeon. While working as a freelance designer and illustrator, she started pursuing her own artistic career and developed quite a unique style. What she does is a mix of cartoonish, sweet, cute, with a dash of vintage, and surprisingly gothic elements. The dark side of her work brings out the deeper disposition. The elements of satire strike at genetically modified food, cultural stereotypes of American cuisine, and ambiguous nature of mid-century advertising style, where almost every pin-up poster had two meanings.