Bright yellow mushrooms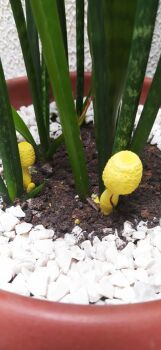 Why are you reporting this puzzle?
These fungi appeared in my mom's plant a few months back, we were really sad because even though they are so pretty, when a plant has fungi at this stage (reproduction stage) not only the plant is likely dead but also the plants surrounding it are also likely to be contaminated. The mushrooms appeared twice in the same month and then... All is well! The plant is thriving and we are really happy :D a nice story for a nice shot, that's why I felt the need to transform it into a puzzle (even though apparently it isn't as high quality as the original picture).