St. Joseph Catholic Church at Damar, Kansas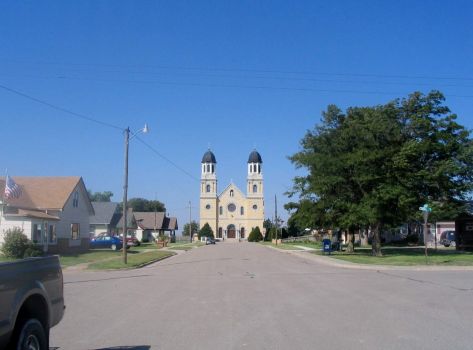 Why are you reporting this puzzle?
Damar was established along the Union Pacific Railroad in 1888 by a community of French Canadians. The community had emigrated from Canada as early as 1871, settling on farms along the Rooks County-Graham County line in northwest Kansas. According to tradition, the community was named after D.M. Marr, the original owner of the town site.
The nearby Enfield Post Office was relocated to Damar in 1894.
St. Joseph Catholic Church was constructed in 1912. The church was listed in the National Register of Historic Places in 2005.
In 1920, Damar had three elevators, two implement dealerships, hardware store, lumber yard, dry goods store, grocery stores, barbershop, bank and opera hall.
The Knights of Columbus built the township hall in 1922.
The population of Damar was 132 according to the 2100 census.