Dad-and-beer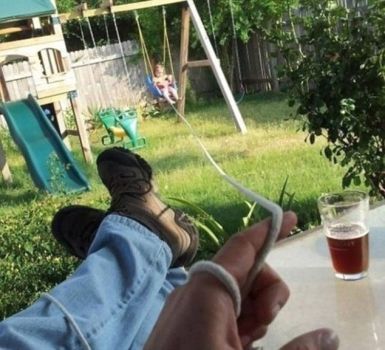 Why are you reporting this puzzle?
Our sub-heading isn't as ominous as it sounds. This dad wanted to have some quality time with his child but he also wanted to enjoy a nice cold beer on a hot day. Using some out-of-the-box thinking he devised a simple but effective way to do both. The baby is having fun in its child swing and the dad is getting some rest and relaxation. This is one of the most popular dads fails online but is it really a fail? Dad solved a problem that helped him out and made his kid happy — we consider this a daddy success
What is the filter for?

Some puzzles are shown behind a filter. These puzzles are within our guidelines but still is material of which some will take great offence. Read more about the reasons and workings of the content filter and how you can set your account up to either see or not see puzzles that are shown behind a filter.