Frida Kahlo by Diego Rivera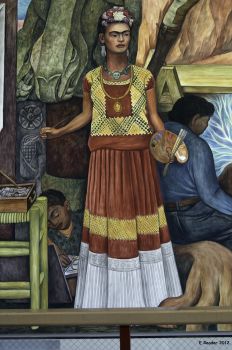 Why are you reporting this puzzle?
Kahlo is seen wearing the traditional dress of Tehuantepec and hand-shaped earrings, a gift from Pablo Picasso in 1939. When Rivera painted this mural, he and Kahlo had been divorced for a year and found themselves in San Francisco attempting to negotiate a weary truce. Rivera had arrived in S.F. in June of 1940. He depicted himself in this mural with his back to his ex-wife (that's Rivera seated to the right of Kahlo) and facing his, then, lover Paulette Goddard. All was not lost however for on Sunday, December 8, 1940, Rivera and Kahlo were once again remarried at San Francisco City Hall. The honeymoon proved short. Kahlo left for Mexico before Christmas, two months ahead of her husband. She never visited San Francisco again. With war on the way, Pan American Unity was taken down the following year and mothballed. It stayed in storage for 20 years. Rivera, who died in 1957, never saw it again. In 1961 the mural was hung at the City College of San Francisco's theater lobby, where it remains to this day a record of private and public passions.