Getting to the Top!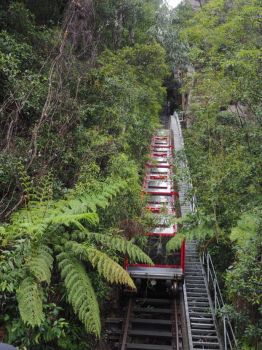 Why are you reporting this puzzle?
A neat little train.
It originated back in 1882 (it didn't look like it does back then!) when there were coal mines here. The original was used to bring coal and kerosene shale up from he valley to the main railway.

This is a really interesting article and has a good diagram of the profile so you can see how steep it is:

https://infobluemountains.net.au/rail/ksr/kat_tram.htm
World's steepest incline railway (Guinness Book of Records 1997+)
Maximum gradient: 52 degrees or 1 in 0.82 or 122%.
Length of incline: 415 metres (1360 ft)
Vertical descent: originally 229 metres (750 ft), now 178m.
Speed: 4 metres per second
Capacity (theoretical): 840 passengers per hour.