Cowardly Criminals Caught Climbing Clock.......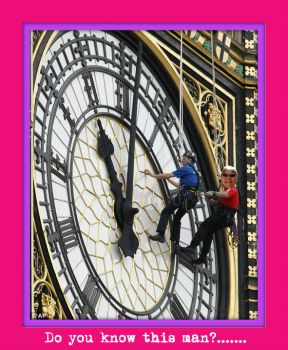 Why are you reporting this puzzle?
This photo, taken just moments before the disappearance of Big Ben, is being released by Bonga-Bonga Security (BOBOS) to the general public, in the hope that someone will come forward and identify the shady characters caught in the act of carrying out THE CRIME OF THE CENTURY!........
I feel sure I have seen the one in red somewhere before, though I cannot place him at this moment......
Bear in mind that he is probably cleverly disguised, no doubt wearing a corset to make him appear to be a normal-sized person, and that he is obviously letting the other villain do all the work.......
By the way, the leaning tower of Pisa leans no more, as it has also disappeared........