Raoul Dufy, "Men Fishing", 1907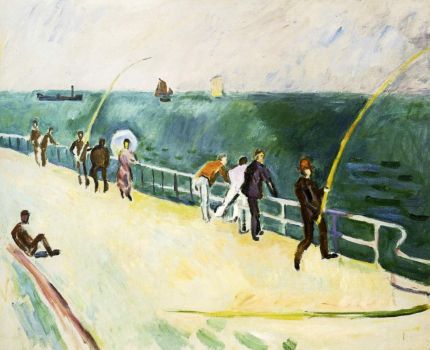 Why are you reporting this puzzle?
Raoul Dufy (1877-1953), he was born into a large family at Le Havre, in Normandy. He left school at the age of fourteen to work in a coffee-importing company. In 1895, when he was 18, he started taking evening classes in art at Le Havre's École des Beaux-Arts (municipal art school). The classes were taught by Charles Lhuillier, who had been, forty years earlier, a student of the French portrait-painter, Ingres. There, Dufy met Raimond Lecourt [fr] and Othon Friesz with whom he later shared a studio in Montmartre and to whom he remained a lifelong friend. During this period, Dufy painted mostly Norman landscapes in watercolors.

In 1900, after a year of military service, Dufy won a scholarship to the École nationale supérieure des Beaux-Arts in Paris, where again he crossed paths with Othon Friesz. (He was there when Georges Braque also was studying.) He concentrated on improving his drawing skills. The impressionist landscape painters, such as Claude Monet and Camille Pissarro, influenced Dufy profoundly. His first exhibition (at the Exhibition of French Artists) took place in 1901. Introduced to Berthe Weill in 1902, Dufy showed his work in her gallery. Then he exhibited again in 1903 at the Salon des Indépendants. A boost to his confidence: the painter, Maurice Denis, bought one of his paintings. Dufy continued to paint, often in the vicinity of Le Havre, and, in particular, on the beach at Sainte-Adresse, made famous by Eugène Boudin and Claude Monet. In 1904, with his friend, Albert Marquet, he worked in Fecamp on the English Channel (La Manche).