Harald Giersing - The Judgement of Paris (1909)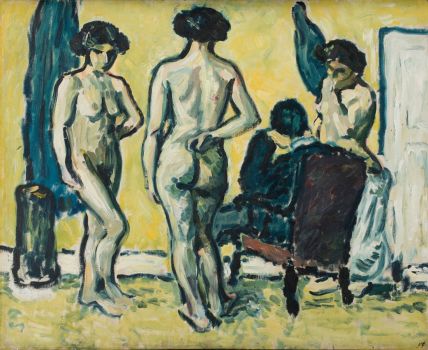 Why are you reporting this puzzle?
Harald Giersing (1881-1927) was a Danish painter. He was instrumental in helping develop the classic modernism movement in Denmark around 1910-1920. Giersing is remembered as one of Denmark's most important 20th century artists both for his portraits and landscapes.

Giersing's take on The Judgement of Paris is decidedly modern. He has placed the scene in an modern living room or parlor as opposed to the tradition outdoor forested setting. He has also chosen to remove all unnecessary elements from the vignette. There are no extraneous characters or props, just the three goddesses with Paris evaluating their beauty and fairness.

- portions adapted from wikipedia.org
What are the symbols on the jigsaw puzzles?

When you browse jigsaw puzzles on Jigidi, you may notice different symbols on the puzzles. One symbol lets you bookmark the puzzle for later, and other symbols tell you about any previous activity you may have on the puzzle.