The Bonga-Beats (with Juneee)!.......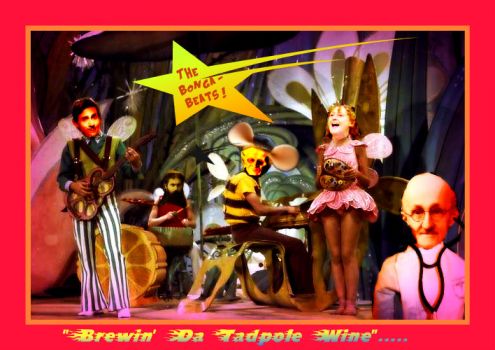 Why are you reporting this puzzle?
Tonight, I proudly present to an unsuspecting public, the launch of a brand new Bugosi record -
"Brewin' Da Tadpole Wine" - performed by The Bonga-Beats and featuring our own Juneee on
vocals.......sort of......
Proceeds from this recording will go towards the encouragement of Tadpole research in modern
society - a noble cause which I feel sure will receive the backing of our faithful followers......
'The Bonga-Beats' feautures the ever-popular uncle Roger on geetar, the now-cured Desmondina
on drums, yours truly on unclebluebottle's organ, and Dr.Adonis on stethoscope, with the forever-
young Juneee shouting....I mean, singing..........
Are you a Jigidi Plus member?

When you become a Jigidi Plus member, you'll enjoy the completely ads-free Jigidi experience. Also, you directly support Jigidi and help us be as free as possible to make Jigidi even better every day.