by Darryl Growing Thunder (Assiniboine-Sioux)
by Darryl Growing Thunder (Assiniboine-Sioux)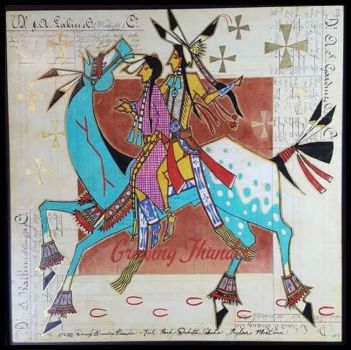 Why are you reporting this puzzle?
"It is from passion, dedication and immersion in Assiniboine and Sioux art that has enabled me to produce a style of art that was originally developed around the turn of the century. 'Ledger' account books and records were adapted to replace the once abundant hides that were used to record deeds accomplished on the battle field, ceremonial events, or daily life including hunting and courtships.

"It is my goal and ambition that this style of 'ledger art' continues to pay tribute to the perseverance of my ancestors who adapted and created works of art during a period of life-changing turmoil and injustice. It is through our art that we as indigenous people can maintain our identity and pass this identity down to generations to come."