Two Blue Birds at a Bird Bath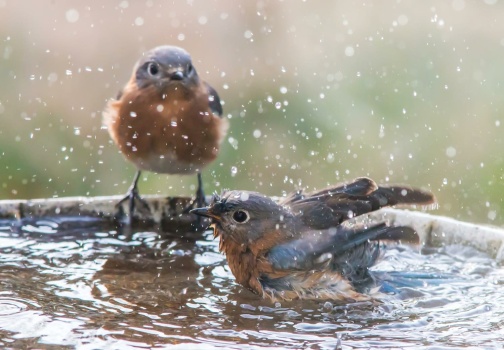 Why are you reporting this puzzle?
Isn't this the just loveliest scene in Today's Daily Jigsaw Puzzle? ♥
Bluebirds
, including mountain, western, and eastern variants, are common throughout North America. These beautiful birds' population faced a decline for many years as their habitats and nests began disappearing, but
avoided extinction thanks to bluebird next boxes
being installed across the country.
Another wholesome fact about bluebirds is their regular practice of monogamy. In other words, bird couples stay together throughout the breeding season and may breed together for more seasons. However, they may switch mates during another breeding season to nurture a second brood.
Are you curious about how do we review content on Jigidi?

At Jigidi, we celebrate what connects us and steer clear of divisive content because how we meet each other matters. It forms us. When we review the content, we use four 'lenses' and look for what the image or comment is most.