Jean Béraud (1849-1935) - Sur les Grands Boulevards, 1884-1885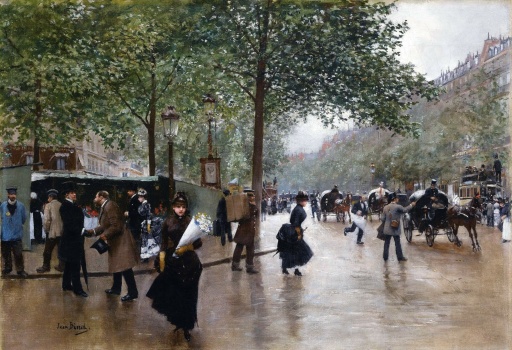 Why are you reporting this puzzle?
Béraud was born in Saint Petersburg. His father (also called Jean) was a sculptor and was likely working on the site of St. Isaac's Cathedral at the time of his son's birth. Béraud's mother was one Geneviève Eugénie Jacquin; following the death of Béraud's father, the family moved to Paris. Béraud was in the process of being educated as a lawyer until the occupation of Paris during the Franco-Prussian war in 1870.

Béraud became a student of Léon Bonnat, and exhibited his paintings at the Salon for the first time in 1872. However, he did not gain recognition until 1876, with his On the Way Back from the Funeral. He exhibited with the Society of French Watercolorists at the 1889 World's Fair in Paris.

He painted many scenes of Parisian daily life during the Belle Époque in a style that stands somewhere between the academic art of the Salon and that of the Impressionists. He received the Légion d'honneur in 1894.

Béraud's paintings often included truth-based humour and mockery of late 19th-century Parisian life, along with frequent appearances of biblical characters in then contemporary situations. Paintings such as Mary Magdalene in the House of the Pharisees aroused controversy when exhibited, because of these themes.

Towards the end of the 19th century, Béraud dedicated less time to his own painting but worked on numerous exhibition committees, including the Salon de la Société Nationale. Béraud never married and had no children. He died in Paris on October 4, 1935, and is buried in Montparnasse Cemetery beside his mother.
Are you a competitive or more a meditative solver?

You can adjust whether to have the timer show or not when you solve your puzzles. You'll find how to in our puzzle player guide.