Rainbow Mountains, Zhangye Danxia Geopark, China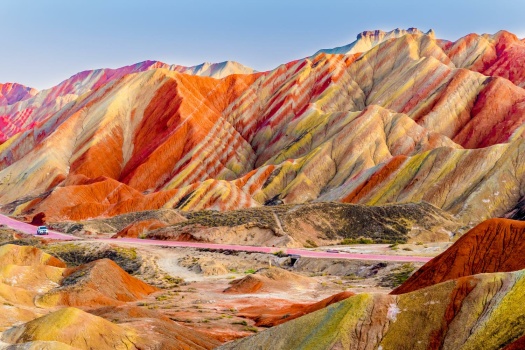 Why are you reporting this puzzle?
In Today's Daily Jigsaw Puzzle, we're in the heart of China's Gansu Province, where the Zhangye Danxia National Geopark cradles a kaleidoscope of colors within its landscape. The mesmerizing Rainbow Mountains, a geological marvel, burst with vibrant hues, painting the earth in shades of red, yellow, and blue.
These chromatic hills were born over 24 million years ago, when layers of sandstone and mineral deposits stacked upon one another, undergoing eons of wind and water erosion.
As the sun's rays fall upon the mountains, their colors intensify, creating a breathtaking display of colors. The best time to witness this natural wonder is at dawn or dusk when the hues dance in a symphony of light and shadows.
Now, if this looks somewhat familiar, it may be because we've recently, in another Daily Jigsaw Puzzle, visited the Rainbow Mountains in Cusco, Peru. You can
see that puzzle here
.
If you are curious about visiting Rainbow Mountains in China? Please come along –
this just might make your day
! ♥
How do you follow a puzzle?

When you follow a puzzle, it means you receive notifications about new comments on the puzzle.